Don't be shy, meet the board!
Nancy Anderson, RN, MSN, Director, Founding Member, President: Nancy has lived in North Palm Beach, FL since 1984. Originally from Indiana, she graduated from St. Elizabeth School of Nursing, received her Bachelor͛s Degree in Nursing from Purdue University in Indiana and her Master͛s in Nursing from Rush Presbyterian St. Luke͛s Medical Center in Chicago. Nancy first traveled to Haiti in 1977 with a surgical team, working at l͛ Hopital St. Croix in Leogane. In 2003 she began working with the local Haitian community in Palm Beach County and shortly after started the non-profit, Hands Together of the Palm Beaches (presently, Hands Together for Haitians) with two other founding members. In 2006, their work expanded to Haiti. Presently, Nancy coordinates and participates in 3-4 mission trips a year to work on various programs and volunteers full-time in the capacity of President and Administrator of the organization. Nancy is married to Robert and they have seven children.
Robert Anderson, MD, Director, Founding Member: Robert has lived in North Palm Beach, FL since 1983 after graduating from Albany Medical School in NY, completing his surgical residency at North Shore Hospital in NY, and his Cardiovascular & Thoracic Fellowship in Chicago. He has been in a private Cardiovascular & Thoracic practice in Palm Beach County since 1983 and working at the Palm Beach Gardens & Jupiter Medical Centers. Dr. Anderson is actively involved in the work of HTPB and has been participating in the yearly medical mission trips to Haiti since 2006. Robert is married to Nancy and they have seven children.
Erinece Saint Jean, Director: Erinece was born and raised in the Central Plateau in Haiti. Since childhood, he has always been touched deeply by the living conditions of the Haitian people who, for most of their lives, have not had access to adequate food, clean water, education and health care. He believes that changes must be made in his country and this ideology pushed him to attend the State University of Haiti where he obtained his Law Degree. With a passion for human rights, he graduated from St. Thomas University School of Law in Miami with a Master͛s Degree in Intercultural Human Rights. Erinece has worked as a high school teacher and a community organizer in his home town, he has worked for the right to food and the right to clean water with international organizations, and he has taught health education for Partners in Health (Zanmi Lasante). He is an exceptional leader who believes in the empowerment of his fellow Haitians through education. Erinece currently lives in Montreal and works for TD Bank.
Laveaux Narcisse, Director, Office Manager: Laveaux was born and raised in Haiti and he came to Palm Beach County in 2003. Laveaux received a degree in Computer Technician at Institut Professionel de ST-Marc (IPS) in Haiti in 2000, a degree inAccounting at the Institut Superieur d͛Administration et de Gestion (ISAG) in 2002, and a Diploma in Professional Barbering at Florida Barber Academy in West Palm Beach, Florida in 2009 and was licensed in 2010. Laveaux has received certifications in Computer Repair, A+ Certificate, Microsoft Certification Systems Engineer, and Cisco Certified Network Association from PC Professor. He has been teaching the adult computer program for Hands Together since 2004 and is an active participant in all mission trips to Haiti. He currently serves as the Office Manager, supervising and coordinating the activities of the office in Lake Worth, Florida. Laveaux is married and has one daughter.
Joni Gooley, Director, Vice President: Joni has lived in North Palm Beach, FL since 1990. She was raised in Wheeling, West Virginia and graduated from the University of Dayton in 1978. She received her Masters Degree in Guidance from Palm Beach Atlantic University in West Palm Beach, FL. She continues to work as the Guidance Counselor and Special Education Contact at Lake Park Elementary School. She has also served on the staff of Young Life in various capacities. Joni is married to Pastor Tim Gooley and has been involved in various capacities of their church, First Presbyterian of North Palm Beach. Tim & Joni have seven children.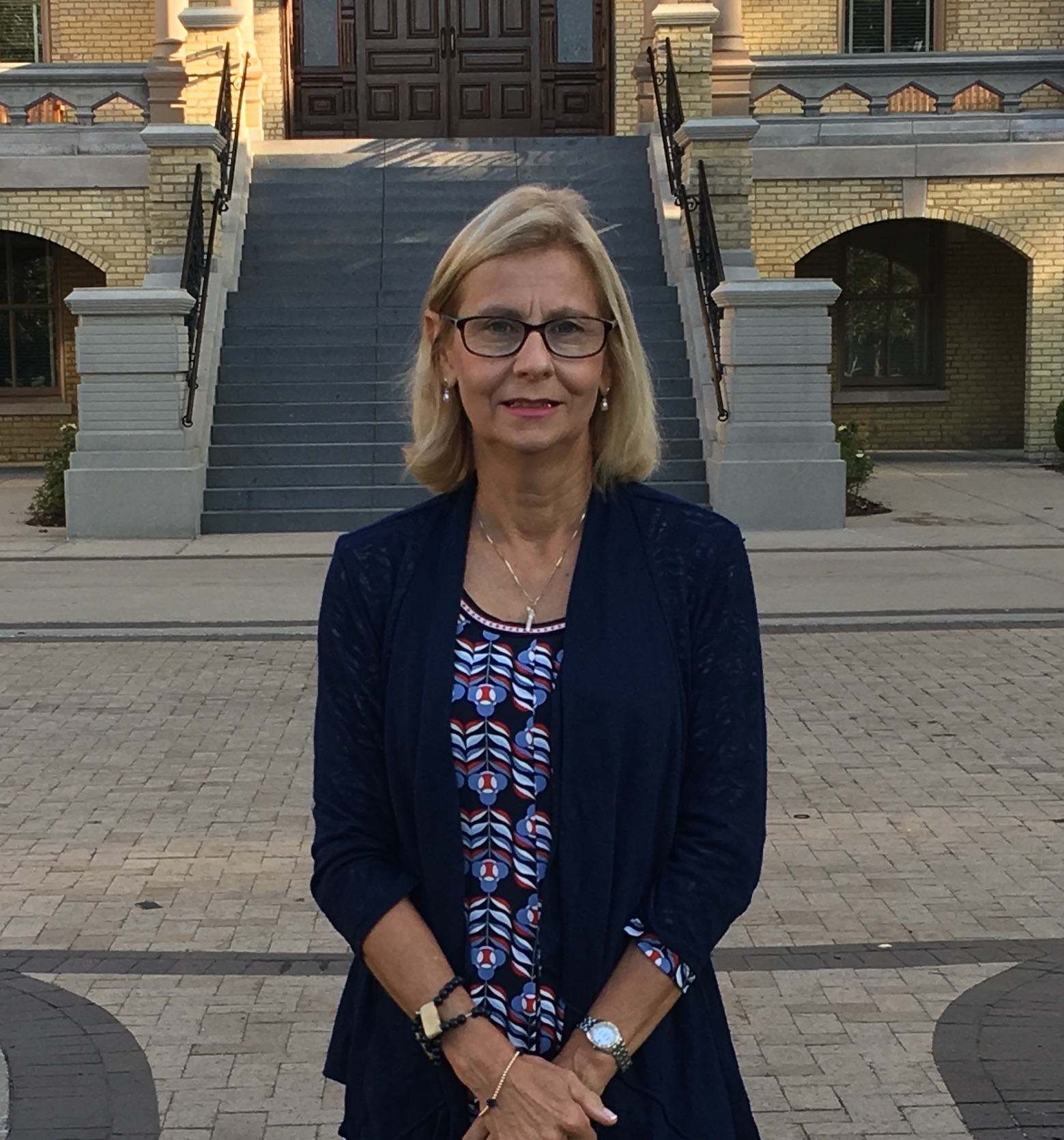 Mary Jo Higgins, Director, Secretary: Mary Jo was born in Philadelphia and came to Palm Beach County in 1971. She is a graduate of Cardinal Newman High School and the University of Notre Dame. Her post graduate education includes a Masters Degree in Physical Therapy from Texas Women͛s University in Houston. She and her husband Dan met and were married in Philadelphia and returned to West Palm Beach in 1985 where they have raised four children. Mary Jo has been involved with Hands Together since 2008. She volunteers with Hands Together͛s Saturday mentoring program as well as the annual medical mission trips. Her other volunteer efforts include working at St. Clare Catholic Church, the Palm Beach County Medical Society Alliance, St. Mark͛s Episcopal School, Cardinal Newman High School, Lake Park Elementary School Mentor, Holy Cross Catholic Pre-School and Center, the Notre Dame Alumni Club of Palm Beaches.
Mary Beth Donaldson, Director, Chairman of the Board: Mary Beth has lived in Jupiter since 1993. She was raised in New Providence, New Jersey and graduated in 1977 from Villanova University with a Bachelor Degree in Nursing. She has worked in the capacity of School Nurse at The Benjamin School since 2001. She is also involved with St. Dismas Society, a prison ministry. Mary Beth has been involved with Hands Together͛s work since 2010 and travels to Haiti for the yearly medical mission trips. Mary Beth has been married to George for 30 years and they have 3 children.
Rev. Mr. William Rich, Director: Bill was born in Evanston, IL and raised in the Midwest. He graduated from Williams College in 1961, married Frances Vincent Rich in March 1962, and joined IBM in July 1962. He worked for IBM for 30 years in a variety of positions, the last being IBM Corporate Vice-President, Services Sector Group. He was ordained to the Permanent Diaconate in 1987. Bill and his wife Frannie live in Juno Beach; they have six children and eleven grandchildren. Bill travels to Haiti several times a year for the annual medical mission trips and to oversee projects of the organization.
Nano Anderson Swetman, Director: Nano is the middle child of founders Nancy and Robert Anderson and grew up in North Palm Beach, Florida. She attended Duke University where she majored in Public Policy and Markets and Management. She then went on to work for Abercrombie & Fitch Headquarters for a few years, and ultimately left to start her own jewelry business, Cuffed by Nano. Nano lives in Columbus, OH with her husband David Swetman.
William Tiedje, Director: Bill grew up in Davenport, Iowa and graduated from Assumption High School in 1962. He went on to Iowa State University and received a BS degree in Engineering in 1966. He spent four years in the US Air Force and left in 1970 as a Captain. After leaving the Air Force, he attended the Wharton Graduate School of Business, University of Pennsylvania, and received his MBA in Finance in 1971. After 25 years in banking he finished his working career as a Business Manager for St. Hilary Church and School, retiring in 2012. Bill and his wife, Dina, reside in Tiburon, California and have been part of the Haiti medical mission the past two years. They have three children and three grandchildren.